Walking The Great Glen Way
Over Easter, while we had all the extra days off because some chinless wonder married a model in an old church in London I went with two of my best friends and walked the 73 miles from Inverness to Fort William along the Caledonian Canal.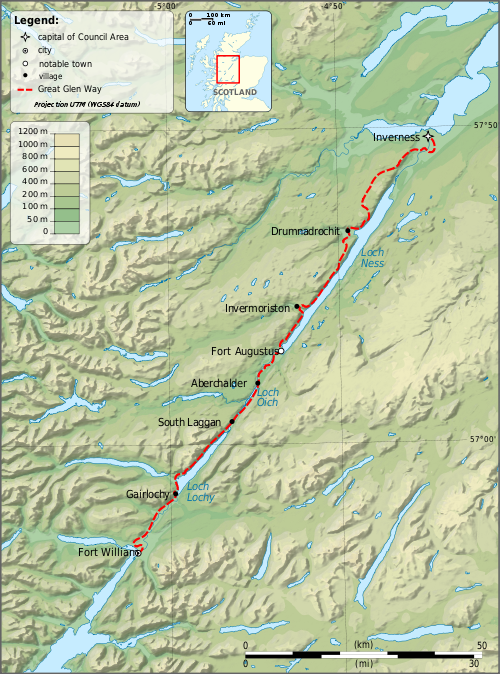 (picture from Wikipedia)
We did it ultralight, using kit I have blogged about before. My mate Ben got well into expedition planning mode and prepared an optimal food mix for the trip and introduced us to SCROGIN (Sultanas Chocolate Raisons Orange Ginger Imagination Nuts) and ANZAC biscuits (his lovely other half is a kiwi).
I was pleased to fit it all in a 30L sack, made the walking much easier than it might have been.
As I had just been in Lisbon for a stag do the weekend before I was not feeling 100% when we got the sleeper to Inverness on the Monday night but we arrived somewhat fresh and started walking immediatly. The sleeper is really nice and I would deffinatly recommend it over flying if you need an early start in Scotland, see ScotRail. By the end of Tuesday we had got most of the way to Invermoriston (nearly 30 miles) but were all exhausted. We wildcamped with some stunning views.
The Wednesday we walked to Fort Augustus and decided to take a B&B; for the night as non of us had slept well and our legs and feet were killing. We were fortunate enough to stay at Old Pier House which was lovely and we got moving again on the Thursday with much more enthusiasm than we ended the day before.
Thursday night we got past laggan and camped at a campsite on the north of Loch Lochy.
Friday was an epic day, taking in the 2 munros ( Meall na Teanga and Sròn a' Choire Ghairbh and walking about 25 miles then (we thought) finishing the walk.
We had actually just reached Neptune's Staircase and we wound up bivvying at the start line of Maggies Monster Bike and Hike. We must have looked quite odd…
We spent the first few hours of the Saturday finishing it off and arriving at Fort William where we ate the biggest amount of food we could.
A great hike with 2 great guys and as it is a UK long distance path it is another of my 101 goals in 1001 days days ticked off